WHY TO STUDY MBBS IN CHINA?
Top university with Lowest Fees: It is but obvious, the quite good difference in both currencies offer you a chance to get an admission in the top university. As the fees that china's top university offer would be not so high for you due to 10 rupees difference.
High tech quality hospitals: The high technology embedded hospitals of china gives an opportunity to the local and international students to practice their internship. The best opportunity to practice in A- grade hospitals and get detailed knowledge of the advanced medical instruments.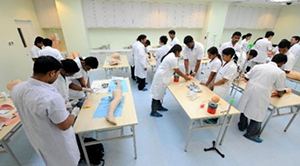 Easy Entrance exam: To get an admission in the China medical university to Study MBBS,MBBS in China, you need to clear an entrance exam. But, the good side of the exam is, it is very easy to clear in contrast to the entrance exam of India.